Keep Your House Cooler
In The Summer,
And Warmer In The Winter
Insulation blocks heat from entering the home in the summer and holds heat in during the winter.
It's a thermally resistant barrier which inhibits the migration of thermal energy into and out of the house.  The results are a cooler home in the summer, warmer home in the winter, and lower energy bills.
It's that simple and it really works.
Insulation is so effective that its cost is often paid for through energy savings in less than a year…and with the rising cost of natural gas and electricity, savings may come even sooner!
Made from rapidly renewable organic materials rather than petroleum-based chemicals commonly used in other insulation products, ECOSE Technology reduces binder embodied energy by up to 70%, and does not contain phenol, formaldehyde, acrylics or artificial colors used to make traditional fiberglass insulation.
EcoBatt™ Insulation doesn't look like any insulation you've ever seen, but that's because its natural brown color represents a level of sustainability never before achieved. The color comes from ECOSE™ Technology, a revolutionary, new sustainable binder born from five years of intensive research.
How Home Insulation Works
In the Summer
In the Winter
In the Summer
During the summer, the powerful sun can cause our homes to absorb a significant amount of heat, with temperatures in the attic reaching up to 170 degrees.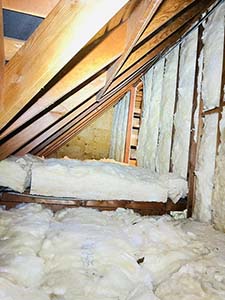 This heat enters the home and causes things to become warm and uncomfortable.
Homeowners are then faced with two options: either turn on the air conditioning and gain high electricity bills, or put up with the heat.
However, many people often find that their air conditioning never cools the house below 80 degrees. This is likely due to poor insulation where the heat is entering the home at the same rate as the AC is cooling it.
Installing insulation in your attic and walls can make a huge difference.
It significantly reduces the amount of heat entering your home allowing it to stay cool for a longer period of time.
As a result, your air conditioning unit will run less often, saving you money on your electricity bills.
In the Winter
So what can Insulation do for you?
A well-insulated home means the air conditioning and furnace system work less often.
Besides saving money on heating and cooling bills, the air inside the house does not get processed and cycled as much through your HVAC system, which means the air does not get nearly as dried out.
Insulation also serves to reduce outside sound from entering the home.
"We moved into our first house and quickly discovered that something was partying in the walls/in the attic every few nights. Attic Star came out, diagnosed our rat problem, reported how ineffective our insulation was, and quoted a price much lower than that of a similar competitor. One standout part of their service is that, for all 3 visits, they called ahead of time and showed up promptly as discussed, making it easy to accommodate the visits in the midst of work meetings and other activities. We are very happy with Attic Star's service and will definitely be calling them again for future projects like replacing old ducts and installing fans to cool the attic."
"My wife and I are seniors and the Attic Star crew has been so respectful and accommodating. From the initial contact, Attic Star has been prompt with messages and replies, and punctual, showing up early each morning, and putting in a full day's hard work. Jay is the general manager of this project, and he is a pro, friendly, and somebody we feel very comfortable with what for us is a big project. Prices are extremely fair with no hidden charges or trying to upsell anything. A special thanks to the crew of Attic Star for a very hard job of working in the attic and crawl space."
"After getting a few estimates for our rodent control project, I decide to go with Attic Star and I never regreted. It was a one-day project for rodent proof and attic insulation replacement. During the job, they also found that our A/C ducts are very old and torn up, and recommended me to have them reinstalled. The next day, Zabi and his team spent a whole day working in our attic and crawl space to get the job done. They did an awesome job and even replaced a duct that's no longer in use with no extra cost. Overall, I think the project managers are very knowledgeable and easy to work with. Their workers are professional too. Would recommend."
"Several years since becoming a customer and over a handful of visits, I continue to be impressed with the quality of the service and professionalism. They respond quickly to emails. They show up when they promise. Techs are courteous and thorough. They honor their warranty. Really a pleasure to work with. We hired Attic Star a few years ago to rodent proof our attic and crawl space. Highly recommend."
"We had a wonderful experience with Attic Star! Zabi, Elso and Diego arrived on time and got right to work. The team kept us informed as to what they were doing and what they discovered as they completed the work. We had a family of rats that had moved in and they were evicted by end of day 🙂 Happy with the service we received!"
"I chose Attic Star, because they laid out a plan that seemed very thorough and the price seemed right. I went up to the attic to see the job they had done and WOW. David, Alexander, Relleno and Salamousito had done a fabulous job! The attic was so fresh and clean, and the new insulation covered every square inch of it! I highly recommend Attic Star as your contractor. They were competitively priced and did a great job!"
Ready to upgrade your home's insulation?
Get an estimate and start saving.