Air Duct Installation & Replacement
Looking to install or replace your air duct system? Trust us to get the job done right.
At Attic Star, we strive to provide you with the perfect air duct system for your home.
We design and install a variety of high-efficiency air duct systems to optimize your HVAC performance and maximize efficiency.
Offering a competitive warranty, our expert technicians can identify which system will perform most efficiently for your home.
Once installed by our team, your HVAC system will be running at peak performance.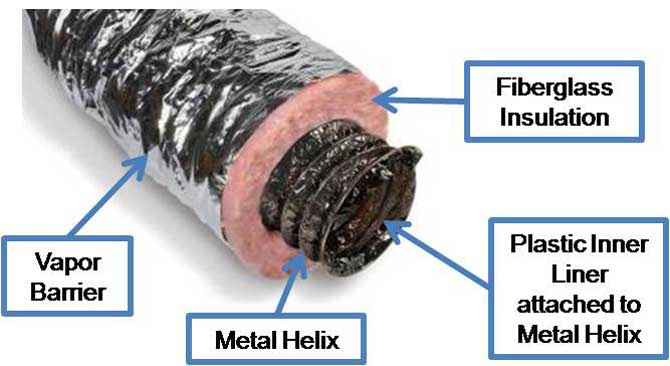 Why do I need to install or replace my air duct system?
It's essential to prioritize the maintenance of aging ductwork, just like any other home system. Poorly maintained and infrequently cleaned ducts can lead to inefficiency, preventing hot or cold air from circulating throughout your home and reducing energy efficiency by up to 40%.
Plus, older systems are susceptible to age-related stresses such as leakage and cracks, which may require the replacement of certain areas or components of your duct and vent system.
What are some signs that my air ducts need repaired or maintenance work?
Here are some key signs to look out for:
Age of your air ducts: If it's been over 50 years since your air ducts were last replaced, it may be time for an upgrade.
Cracks or holes in your air ducts: Over time, wear and tear or improper installation can cause cracks or holes in your air ducts.
Inconsistent temperatures throughout your home: If you find that your HVAC system is not producing consistent, uniform temperatures in every room, it could be due to limitations in the amount of air your ducts can carry.
What are some common repairs I may expect?
Wondering what kinds of repairs your air duct system might require? Here are some common issues to be aware of:
Repairing specific parts of a system, such as the air distribution unit or individual vents, is not uncommon over the lifetime of a home.
The ductwork itself can also deteriorate overtime, resulting in small leaks and larger holes. If these are easy to access, homeowners can often repair them by sealing leaks with mastic or using scrap sheet metal, mastic, and self-tapping screws to seal larger holes.
How do I know when it's time to completely replace my air duct system?
If basic sealing and patching jobs are not enough to improve the efficiency of your heating and cooling system, or if problem areas are difficult to access or too numerous, it may be necessary to replace your ductwork entirely. This is especially true for older homes where the system has sustained significant damage over time or where the materials used are of subpar quality.
Contact us today to schedule an assessment and
ensure the efficiency and longevity of your home's air duct system.
"We moved into our first house and quickly discovered that something was partying in the walls/in the attic every few nights. Attic Star came out, diagnosed our rat problem, reported how ineffective our insulation was, and quoted a price much lower than that of a similar competitor. One standout part of their service is that, for all 3 visits, they called ahead of time and showed up promptly as discussed, making it easy to accommodate the visits in the midst of work meetings and other activities. We are very happy with Attic Star's service and will definitely be calling them again for future projects like replacing old ducts and installing fans to cool the attic."
"My wife and I are seniors and the Attic Star crew has been so respectful and accommodating. From the initial contact, Attic Star has been prompt with messages and replies, and punctual, showing up early each morning, and putting in a full day's hard work. Jay is the general manager of this project, and he is a pro, friendly, and somebody we feel very comfortable with what for us is a big project. Prices are extremely fair with no hidden charges or trying to upsell anything. A special thanks to the crew of Attic Star for a very hard job of working in the attic and crawl space."
"After getting a few estimates for our rodent control project, I decide to go with Attic Star and I never regreted. It was a one-day project for rodent proof and attic insulation replacement. During the job, they also found that our A/C ducts are very old and torn up, and recommended me to have them reinstalled. The next day, Zabi and his team spent a whole day working in our attic and crawl space to get the job done. They did an awesome job and even replaced a duct that's no longer in use with no extra cost. Overall, I think the project managers are very knowledgeable and easy to work with. Their workers are professional too. Would recommend."
"Several years since becoming a customer and over a handful of visits, I continue to be impressed with the quality of the service and professionalism. They respond quickly to emails. They show up when they promise. Techs are courteous and thorough. They honor their warranty. Really a pleasure to work with. We hired Attic Star a few years ago to rodent proof our attic and crawl space. Highly recommend."
"We had a wonderful experience with Attic Star! Zabi, Elso and Diego arrived on time and got right to work. The team kept us informed as to what they were doing and what they discovered as they completed the work. We had a family of rats that had moved in and they were evicted by end of day 🙂 Happy with the service we received!"
"I chose Attic Star, because they laid out a plan that seemed very thorough and the price seemed right. I went up to the attic to see the job they had done and WOW. David, Alexander, Relleno and Salamousito had done a fabulous job! The attic was so fresh and clean, and the new insulation covered every square inch of it! I highly recommend Attic Star as your contractor. They were competitively priced and did a great job!"
Do you need to install or replace your Air Duct system?
Get an estimate and start saving.